Mosquito Magnet Parts & Repair
There is no denying, spring has definitely sprung. The cold days of winter have faded away and it means bugs are coming out once again. It also means, if you are hoping to avoid nasty bug bites and not being able to enjoy the great outdoors, you need to make sure your mosquito trap is working like it should. If your Mosquito Magnet is not keeping up with your expectations, never fear, there are a lot of Mosquito Magnet maintenance and repair options.
Mosquito Magnet Issues
Occasionally, all things need a little TLC to keep working the right way. The Mosquito Magnet is no different. If you are having a major issue with one of the Mosquito Magnet parts and you are unable to find information on how to fix it in the Mosquito Magnet manual, you should be able to send it in for service.
Luckily, because no one wants to live without protection from mosquitoes long enough to send it off for repair, most Mosquito Magnet repair options are only a click away. This includes issues such as replacing the bag inside of the machine, changing nets, or changing attractant, you should refer to the manual and then find the best deal possible.
How often should Mosquito Magnet nets be changed?
Your mosquito net should be replaced if it begins to show any damage. If it becomes torn or develops a hole, it will no longer catch bugs the way that it should. If you live in an area that has heavy pollen, dust, or other issues that may clog up your net, you will also want to replace it. It is a good idea as well to replace the net at the beginning of the season, for example, mosquito season or noseeum season.  As a worst case scenario, you may need to change it along with changing your attractants.
How often should Octenol or Lurex3 attractant be changed?
According to most manuals and attractants, you should change the attractant every 21 days if you run your Mosquito Magnet all of the time. If you only use it when you are outside enjoying the evening hours, then you should be able to make the attractant last much longer. However, if you do venture outside and notice that it is not working properly and you are still getting bit you will then want to go ahead and change it out.
What is the difference between Octenol and Lurex3?
Before you purchase any new attractant, you need to make sure that you get the right kind. If you live along the coast in North America or in Canada, you will want to use Octenol. This is also the case if you live in an area that is surrounded by a lot of woods or standing water because mosquitos breed in those areas and Octenol mosquito attractant can draw in more bugs.  All other areas that do not have a lot of breeding grounds can make use of Lurex3 mosquito attractant.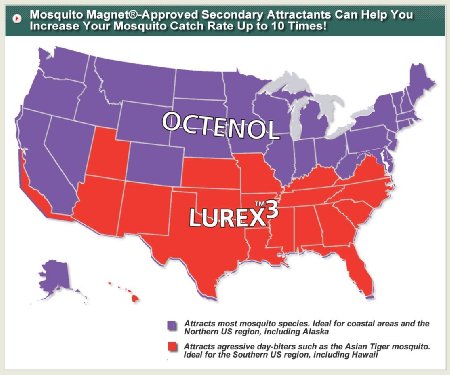 To help ensure that you avoid having to send in your mosquito trap to have it serviced, you will want to make sure you use the Quick-Clear valve after changing every propane tank to get rid of any dirt or grime that may be left inside of it. To help you with the rest, here are a few of the best products available to help you keep your magnet in top working order.
This Mosquito Magnet refill is EPA registered as a secondary attractant. It lures in biting insects by mimicking human breath. It is ideal for coastal areas and catches up to 10 times the amount of bugs as other attractants. You should replace every 21 days.
_____________________________________________________________________________
Lurex3 mimics skin scent and human breath. It works well in southern regions of the US and Hawaii, but it is not the ideal solution for coastal areas. This attractant can also attract the Asian Tiger mosquito, which is most often linked to transmission of certain diseases such as West Nile, Heartworm, and Encephalitis.
_____________________________________________________________________________
If you have the Defender trap you will want to purchase this net. It should be emptied or replaced every 21 days to ensure that your yard is free of mosquitos. There is one net per pack.
_____________________________________________________________________________
This is a pack of 3 nets. It should be changed or emptied every 21 days, sooner if it gets full faster. The bags are self-contained to make replacement easy.
_____________________________________________________________________________
This net is designed to work with the Executive trap. Replace as needed to ensure that it continues to work as it is supposed to, with continuous, unblocked airflow.