Mosquito Magnet Patriot Review
The Mosquito Magnet Patriot is a simple yet effective design. If you are a person that likes to keep things simple in the fight against mosquitos and their diseases they carry, the Patriot is for you. The machine comes with a 50′ cord, which makes changing or charging batteries a non-issue. However, you will need to have a power outlet within the necessary vicinity of optimal trap placement.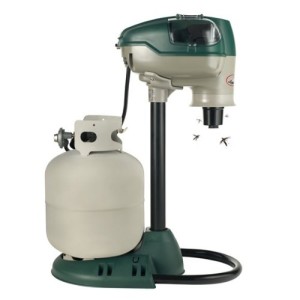 Mosquito Magnet Patriot Propane Mosquito Trap
The Patriot has an onboard rigid self-contained net which makes changing every 21 days an ease. Maintaining an adequate airflow via the trap nets helps to ensure top performance. The Patriot is also the most affordable propane mosquito trap making more individuals inclined to buy this model over the more expensive models especially for the first trial of this technology. However, it is worth noting that trap placement will directly affect your success rate with a propane mosquito trap.
Pros:
Easy Setup
Most Affordable
Up to 1-acre coverage
Odorless
3x Larger Catch Bag
Cons:
Not cordless
No fuel-saving features
Assembly and Startup: 
Who is the Mosquito Magnet Patriot for?
The Patriot is for the person looking for the most affordable option when it comes to a propane mosquito trap. Also, it is for those that like to keep things simple. The Patriot is the simplest propane mosquito trap on the market. As already mentioned this trap is only for areas that have access to a power outlet. The 50′ cord gives you maximum reachability, but you surely are not taking this trap out onto the middle of a golf course as you could with SkeeterVac.
Patriot Reviews
With reviews on Amazon and reviews on the manufacturer's website both rating middle of the road, you get a better idea from customer's experiences as the Patriot has more review totals overall. Of those reviews, the Patriot's biggest complaint is that it is not cheap to run, as it does burn through propane. The biggest compliment… It works!
More Mosquito Control Options: